There is no better time to clean your house than spring. Interior designers in Sydney believe a spring clean can give your home fresh appeal and help with stress and organisational issues. It is time to find out just how you can have a clean and revitalising home in no time at all.
Decluttering
One rule people tend to follow when it comes to knowing what to declutter is if you haven't used it for six months, then it is time to throw it away. This rule doesn't apply to clothing or other seasonal items. You can always donate items if they are still in working or excellent condition. Just by following this rule, you will be amazed at how many excess things you have in your home that you don't even use.
Deep clean the carpets
You won't realise just how much hair, dust and dirt build-up is in your carpets. Giving your carpets a deep clean can help to bring it back to life and restore the texture and colours. You can get your carpets professionally cleaned, or you can hire a carpet cleaning machine which will effectively remove dirt and stains. While you are cleaning carpets and moving furniture out of the way it is a good idea then to rearrange furniture to give your room a new look while the heavy items are already out of the way.
Remove pet hairs
We all love our pets, but it can be hard to keep your home clean when cats and dogs leave their hair everywhere. Rubber gloves work well for this because of their material. Any friction will make the hairs stick to them quickly. Rubber gloves work well for curtains, sofas and bedding. If you don't have rubber gloves, lint rollers also work well.
Cleaning your oven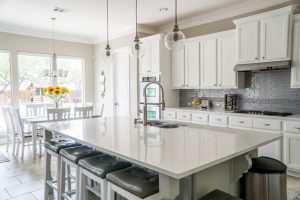 There is no doubt that oven cleaning is time-consuming, but it can be less stressful with the use of bicarb soda. Add some to a spray bottle and add some water. This can then be sprayed onto the interior of your oven. Make sure to avoid the heating element areas. It is best to leave the solution on overnight, and then you can wipe it clean the following day. If any soda remains, you can spray it with vinegar to dissolve and remove it. Using harsh chemicals can irritate the skin and cause damage to your oven. If you prefer not to clean it yourself, you can always hire a professional to do it for you. This will improve your overall kitchen design aesthetic as nobody wants to look at a dirty oven or a generally messy kitchen.
Clean your fridge
Stains, food matter and water can build up in your fridge. To give your fridge a solid clean, you can use toothpaste and a toothbrush. If you find you have any lurking smells in the fridge cut a lemon in half and place one half on the top shelf and the other one down the bottom of the refrigerator. The lemon will absorb odours and leave your fridge smelling nice and fresh.
Using your dishwasher
You can use your dishwasher for more things than just cleaning your dishes. You can clean your kid's toys that are plastic without batteries, which can help to sanitise them also. If you have statues around your home depending on their material, you can place them in the dishwasher to remove any dust and particles leaving them clean and streak-free.
Follow these few tips to have your home sparkling and fresh for spring in no time at all without the harsh chemicals and heavy elbow grease.